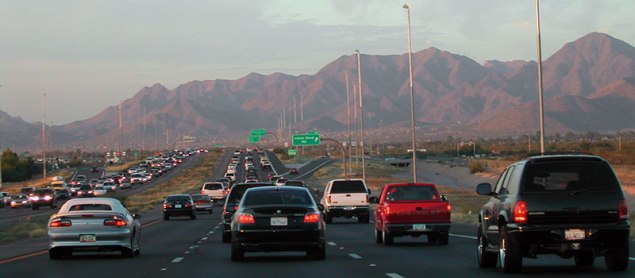 Phoenix Personal Injury Attorney
Car Accidents Happen Daily in Phoenix:
Car accidents happen often in Phoenix, Arizona simply due to the volume of traffic on the intricate highway system which includes the 101, I-10, I-17, 202 and the US-60. This is especially true during morning commutesfrom the West Valley to Central Phoenix and East Valley to Central Phoenix. If you or a member of your family has suffered serious personal injury — or a loved one has been killed in a fatal car accident in Arizona — you need an attorney you can trust. Arizona personal injury attorney D. John Djordjevich, and his professional staff will take your needs seriously and work hard to reward your trust.
When Arizona personal injury attorney D. John Djordjevich commits to a case, he stays committed. His Phoenix personal injury firm is a client's best opportunity for justice, and so he is relentless in investigation, evidence collection, retaining needed expert witnesses, case building and other aspects of seeking resolution through the legal system in Maricopa County courts.
Taking Your Side Against Insurance Companies:
If you are injured in an auto crash in Arizona, it is important to follow a procedure that will provide all the necessary information to your insurance carrier and to support your injury claim in the event that you need to file a lawsuit in Maricopa County Superior Court for compensation. As a priority, schedule an appointment immediately after the collision so that a licensed Arizona medical professional can provide you with a clean bill of health. You should also consult with Arizona personal injury attorney D. John Djordjevich as soon as possible to keep from reducing the value of your claims.
Call a Phoenix Personal Injury Attorney to Protect Your Claims:
If you are not able to return to normal activities then it is even more important to keep accurate records of all of your appointments that you have with your Arizona physician and to ask for copies of the medical reports so that you will be able to re-produce these documents if necessary. Your insurance carrier will also need a copy of the medical records so that they can process the information as well. If you are injured and plan on filing a claim for injury compensation, contact Phoenix personal injury lawyer D. John Djordjevich who is experienced in settling auto accident injury claims as soon as you can.
Under Arizona law, you are able to recover:
Cost of Present and Future Medical Treatment (including physical therapy, surgery, ambulance transportation costs, and the cost of medical devices like crutches, braces, and walkers).
Past and future lost earnings and wages.
Cost of Repair or Fair Market Replacement Value of Any Property (including the vehicle and any other personal property damaged in the incident)
Current and projected physical pain, mental suffering, loss of enjoyment of life, disfigurement, physical impairment, inconvenience, grief, anxiety, humiliation and emotional distress. These are what are known as Non-Economic or General Damages.
Personal Injury Practice Areas:
My personal injury practice is dedicated to assisting injured victims and families who have lost a loved one due to the negligent or reckless actions of another party. If you are seeking legal counsel from a Phoenix personal injury lawyer, I can help. My firm is committed to helping victims obtain just and fair financial compensation for their losses, and I have a wealth of experience in personal injury cases which include: Personal Injury, Automobile Accidents, Motorcycle Accidents, Trucking Accidents, Bus Accidents, Pedestrian Accidents, Bicycling Accidents, Drunk Driving Accidents, Boating Accidents, Premises Liability, Fires/Explosions, Wrongful Death, Traumatic Brain Injury, Brain Injuries, Workplace Injuries and Workers' Compensation.
Speak with a Phoenix Personal Injury Lawyer Now:
When you need a Phoenix personal injury attorney who will fight for maximum compensation for any car accident claim in Arizona, call us at: 480-621-7150. Consultations are always free and there are no upfront fees and no fees at all until we recover money for you!
Phoenix Arizona Car Accident and Injury Attorney – D. John Djordjevich
Phoenix Car Accident and Injury Law Firm – The Law Office of D. John Djordjevich
Kierland Corporate Center
7047 E. Greenway Parkway, Suite 250
Scottsdale, AZ 85254
Phone: (480) 621-7150

Branch offices conveniently located in Glendale, Arizona and Peoria, Arizona. Our firm proudly serves all of the Phoenix Metro area including Avondale, Cave Creek, Chandler, Gilbert, Glendale, Mesa, Phoenix, Scottsdale, Tempe, West Valley and Casa Grande, Tucson, Kingman, Bullhead City, Payson, Flagstaff.
For a free consultation call (480) 621-7150